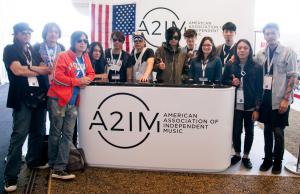 The Chairman, Mixer, DJ QuestionMark, who not only came to the Taiwanese exhibition booth for propagation, also make communication with A2IM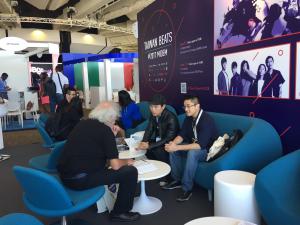 The Taiwanese booth was crowded with people and full of vitality
The mostly focused attention upon, France Cannes, MIDEM, has its official opening on June 06, 2017.
CANNES, FRANCE, June 9, 2017 /EINPresswire.com/ — The Taiwanese visiting group has taken its music influence arise from 1.5 Billion population, with the huge ambition to expand the Chinese market. On June 07, 2017 the Taiwanese exhibition center has played an important role on global business exchange platform, to organize an international Flash mob business meeting, with more than 150 attendees of international music attendees to participate. The Taiwanese booth was crowded with people and full of vitality, so this Flash Mod business meeting was instantly the most eye-catching of the whole event. On the other hand, the three teams that played on June 08, 2017: CEO Band, Mr. Mi Music Team, DJ Questions came to Taiwan booth for a visit after their performance, which prolonged the focus of the crowd, showing the great vitality from the Taiwanese representative group from this international event.
In 2017 that Taiwan has its 51st year of MIDEM International event, which received the beautiful name as "The largest music exchange show". Taiwan commenced organizing music teams to attend MIDEM international music exhibition, arising from the early stage with the primary exhibition characteristics of purchasing music internationally, to the recent years of when Taiwan has finally gained recognition on Chinese pop music after years of hard working and exhibition propagation. It also signifies the potential business market bearing of 1.5 Billions of Chinese ethnic group. In addition, Taiwanese celebrities' performance are gaining more recognition over the years, this has brought about the trend of Taiwanese business from importation to exportation. Each year, the celebrities working on "Taiwan Beats" in MIDEM, including: Suming Rupi, MAZKA, MayDay, Yen-j, A-Lin, Hsin, William Wei, Jolin Tsai, Missko, Waa Wei are all popular singers that are recognized by Golden Melody Award, in which MayDay, Jolin Tsai and A-Lin all signed contracts with international Performing Arts Brokerage Company, and international record company to expand their career in the International stage for touring tickets after attending and performing in MIDEM.
Today under the operation of Flash Mod business meeting, it has attract more than hundreds of attendees coming to the Taiwanese booth for Flash Mod business meeting, filled the Taiwanese booth with crowds. Moreover, more than 50 vendors, or institutes came for self introduction. There are total of 12 Taiwanese vendors attending this exhibition, in which there is one vendor who specializes on releasing incenses, : ALIZ is a company that have offices in both Taiwan and China, Seed Music.., these music groups have all come up the stage to make self-introduction. On the other hand, DIY Spinbox who have successfully organized fund-raising scheme, who made their own Vinyl turntable and attract interests of the visiting guests, and have sought for further communication. This has set a successful example of the Taiwanese cultural and creativity industry. Taiwanese visiting team have turned passive exhibition business functionality into active international meeting center, such business platform role-play have been welcomed by different industries people, with great appreciation and admiration on such creativity design.
When Flash Mod meeting is coming to the end, the three teams who have just come of the plane and rushed off to the exhibition, The Chairman, Mixer, DJ QuestionMark, who not only came to the Taiwanese exhibition booth for propagation, also make communication with SXSW and A2IM. Taiwanese pop music celebrities have come to this international music affair for years, representing the scale of Chinese market, which have gradually caught attention of the international music industrial personnel with their recognition. As for today, there are celebrities coming from Swiss, France, Cuba, Africa coming to Taiwan exhibition booth. They have also made musical communications and performed at site, attracting the press coming to Taiwanese booth for photographic shooting, and the Taiwanese exhibition booth have again gained attention from the international press. There have been full of vitalities and huge momentum in the Taiwanese exhibition booth. The Taiwanese visiting group has completed a great task on international propaganda.
Apart from the business trip, the three Taiwanese celebrities are performing "Taiwan Beats" at the Majestic Beach at the side of MIDEM on June 08, 2017. More information and performance updates for 2017 Canne MIDEM will be updated on GCA Entertainment website.
Media window
Guidance unit: Cultural Dept
Host unit: Bureau of Audiovisual and Music Industry Development, MOC
Contract Unit: GCA Entertainment
http://www.gca3nt.com/ http://www.facebook.com/gca3nt
Wen-Lien Lee
GCA Entertainment Co., Ltd.
email us here
886905581600

Source: EIN Presswire