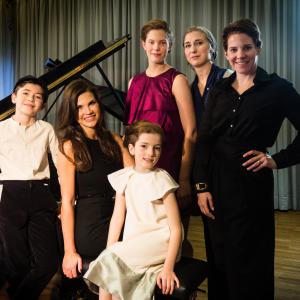 Soley Buml, Filip Trifu and Anja Druml with The Small Gatsby's Teresa Zimmermann and Anita Dorner and IMF Chairwoman Leona König
Child prodigies Filip Trifu and Soley Bluml at Steinway&Sons B-211 wearing The Small Gatsby
Europe's luxury kids brand THE SMALL GATSBY is collaborating with highly talented child musicians and actors as testimonials, building on Vienna's art tradition
You can feel the radiation of talent – its mind blowing. We are honored to clad these fine young souls in garments that emphasize their character and talent."
— Teresa Zimmermann
VIENNA, VIENNA, AUSTRIA, February 20, 2018 /EINPresswire.com/ — One of the Europe's most talked about luxury kids clothing brands THE SMALL GATSBY is again supporting highly gifted children in music and arts by joining the International Music Foundation, who is awarding the Golden Note scholarship on March 11 in Vienna. After robing British child prodigy Alma Deutscher (11) for the premiere of her first full-length opera and actress and violinist Allegra Tinnefeld (11) for New Year's Concert, the high end clothing brand has produced this year's announcement film, dressing three awarded talents in finest cloth. Soley Bluml, Filip Trifu and Anja Druml are playing an Impomptu by Viennese composer Hugo Reinhold anno 1881 on a Steinway&Sons Grand Piano B-211 at Steinway House Vienna, showing their immaculate talents.
CEO Teresa Zimmermann's Brand Strategy and Designer Anita Dorner's creations have put THE SMALL GATSBY repeatedly into the headlines for high level testimonial appearances. The art of creating garments, which are both stage worthy and, as Anita Dorner says "skin worthy", suitable for the typical movements of children and those of musicians gives THE SMALL GATSBY a very unique positioning among luxury kids clothing brands for girls formal dresses and suits for boys.
"It's miraculous," says Teresa Zimmermann, "watching a child play at such a virtuous level. You can feel the radiation of talent event through a picture, more so on a video, and if you see them in person, its mind blowing. We are honored to clad these fine young souls in garments that emphasize their character and talent."
This year's Goldene Note concert will take place at Wiener Musikverein on March 11th, where selected talents between five and fourteen years will be accompanied by members of Vienna's University of Music and Performing Arts. The most gifted children will be honored by the distinguished committee: the violinist Julian Rachlin, Peter Goetzel of Vienna Philharmonics, pianist Paul Gulda and violinist and composer Aleksey Igudesman.
The announcement movie has been captured by appraised Vienna film production company Brix Productions, who has teamed up with The Small Gatsby once more to create outstanding moving pictures that show their garments in an artful atmosphere.
The Small Gatsby's luxury designer clothing is available online at https://www.thesmallgatsby.com for worldwide shipping.
Teresa Zimmermann
The Small Gatsby
+43 660 5940057
email us here
Luxury clothing brand THE SMALL GATSBY presents die GOLDENE NOTE

Source: EIN Presswire