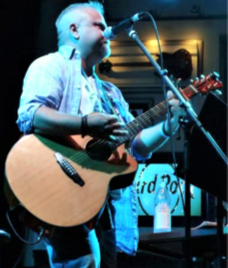 I'll also play a few cover songs, but be expected to get hit with a heavy dose of original music in a format similar to the popular MTV 'Unplugged' shows."
— Joe Newtz
BEAVER, PA, USA, June 19, 2018 /EINPresswire.com/ — Joe Newtz launches his Beaver County, Pennsylvania Unplugged Summer Tour this Friday, June 22 at Kelly's Riverside Saloon in Bridgewater with a special 1-hour show. The Vanport Township singer-songwriter will take the stage at 7 p.m. and play an acoustic-based set that includes tracks from his 2015 CD release "Crossing Over" album, as well as a few new tunes from his next release.
His other tour dates:
June 23 — J. Kells Front Door Tavern, South Beaver Township.
July 6 — Wooley Bully's, New Brighton.
Aug. 3 — Seven Oaks Country Club, Ohioville.
Aug. 31 — J. Kells Front Door Tavern.
Sept. 1 — Kelly's Riverside Saloon.
Sept. 14 — Wooley Bully's.
He also booked a July 27 show at Steamworks Creative in Hampton Township.
Signed to Big Noise Records, he lists influences as far-ranging as Genesis, the Outlaws, Luther Vandross and Incubus but says his sound is most similar to another of his favorite bands, Toad the Wet Sprocket.
"Over the last year, I've received requests about performing stripped-down versions of the songs from "Crossing Over,"
so I reached out to some local venues that seemed excited about doing acoustic shows that run a little earlier than the traditional local rock shows that typically go from 10 p.m. to 2 a.m."
"There are folks that want to go out after dinner and check out a more intimate show that doesn't keep them out all night." Newtz is hoping to dial-in to those fans.
Crossing over can be purchased at CD Baby at https://store.cdbaby.com/cd/joenewtz. His artist website is www.joenewtz.com/music.
Joe Newtz
Rhythm of the Earth Music
724-728-8143
email us here

Source: EIN Presswire